Jean Louis Tribouley
The estate was created in 2002 (alongside Yoyo) on 10.5 hectares of vines in Latour de France. 11 hectares of vines aged between 20 and 60 years / 3 ha of carignan, 4 ha of grenache, 1.5 ha of syrah, 1.5 ha of macabeu, 1 ha of grenache gris.
Arid, very stony terroir, often shallow, composed of one-third schist and two-thirds gneiss mixed with granitic arenes.
The estate is certified by ECOCERT as an Organic Farm.
Sometimes grapes are destemmed sometimes not, vatting without pumping over, and maceration for 8 to 20 days, depending on the cuvée. Malolactic fermentation is sought for both reds and whites. The reds are vinified in stainless steel, resin or concrete vats, the whites ferment in old barrels. Bottling is carried out on the estate using collective equipment.
Les Dolomies
Les Dolomies is the winemaking project of Céline and Steve Gormally. Céline created the estate with a modest 0.5 hectares, in Passenans, Jura, which she tended while working for some of the most iconic Jura producers (Domaines Labet, Badoz, and St-Pierre) and from which they make otherworldly Jura wines full of both elegance and power. In 2008 Céline was able to grow her estate to just over 3.5 hectares, and now it's up to five. Les Dolomies' focus is on ouillé style wines, all super fresh and mineral, and each expressing the individual terroir they come from. The couple left the Côtes-du-Jura AOC in 2016 so they could embrace more freedom in their winemaking. Wild yeast fermentation and bottling without fining or filtration have always been the norm here. From 2020 no sulphur is used during vinification and aging, and the wines have gained in clarity and depth.
–Fifi Selects–
Dominqiue Derain
Dominique Derain started his career making wine barrels before studying winemaking in Beaune.
In 1988 he and his wife purchased 5.5 hectares of vineyards in Saint-Aubin just south of Beaune and began tending the vines biodynamically. The vines are located around the hill of Montrachet and in the combe de Saint-Aubin. Manure, silica and other plant-based preparations are used. The Saint-Aubin appellation is one of the hidden secrets of Burgundy because the vineyards border those of the premier crus of Chassagne-Montrachet and Puligny-Montrachet. The wines are certified biodynamic by Ecocert and have been certified since 1989.
Julien Altaber, (Dominique Derain's faithful right-hand man since 2002) and Carole Schwab of Domaine Sextant took over the "fermage" (rental) of the plots for him. Dominique is still intimately involved in the cellar and vineyard when he isn't traveling abroad working on collaborative cuvées. Wines typically see stainless, concrete or fiberglass tanks before racking and aging in old oak. All wines have only one racking before bottling.
–Fifi Selects–
Coeur de Cuivre
Julia Marti established Coeur de Cuivre in 2018 with the goal of creating modern Languedoc spirits with ancient methods and tools. She makes her own spirits in Vauvert as well as providing distillation for locals, professional and hobbyist alike. She uses two 500 liter wood-fired copper stills that date back to 1901 and 1906. She is a signatory on the Natural Booze Manifesto and a founding member of the Alambic Association — Union of Independent Distillers.
Domaine Leonine
Stéphane and Caroline Morin's 12-hectare estate, created in 2005, is located on the foothills of the Albères in Saint-André (Pyrénées-Orientale). The estate's philosophy is to make wines that are close to the terroir, easy to digest, with as little intervention as possible between the grape and the glass. All of their cuvées are produced organically, biodynamically, and without any added sulfur.
Domaine Ledogar
The vineyards extend over 22 hectares in the Boutenac terroir near Carcassonne, around the village of Ferrals-les-Corbières. Xavier Ledogar has run this 22-hectare estate since 1997 changing the vineyard name from Domaine Grand Lauze to Domaine Ledogar.
One of the first changes Xavier made to the family estate, of which he was a fourth-generation custodian, was to stop selling grapes to the local cooperative and use them instead to make wines himself. Xavier was joined by his brother Mathieu in 2004 and they quickly converted the vineyards to respect biodynamic principles. Domaine Ledogar was certified organic by Ecocert in 2006. A third brother, Benoit, now joins them as they continue to produce exceptional BTG options for restaurants and cafés around the world, as well as AOC Corbières Boutenac cuvées and a spectacular Carignan Blanc.
A Fifi Selects wine
Clos des Mourres
Ingrid & Jean-Philippe Bouchet cultivate vines on 5-hectares in Cairanne, oriented on the northwestern slope of the Col du Débat. A natural drainage of the vines occurs thanks to the direct exposure to the Mistral wind. The plots are located between 200 and 280 meters above sea level, on mainly clay-limestone soils.
They also work 10 hectares of vines around their farm which were added in Vaison la Romaine in 2012. The soil is mainly sandy in Vaison la Romaine, and allows for the production of wines with a different structure than the wines of Cairanne. Bottling is done according to the lunar calendar.
(Fifi Selects)
Domaine La Ferme des Magesses
We are pleased to introduce the wines of polycultural farmer and natural vigneron from Gard, Thomas Bouet to the states. Thomas and his wines come from Sanilhac, just a 20-minute drive South of Uzès, where Thomas's family roots date back to the 17th century. In 2018 he took over the family land and now operates on 5ha of vines (plus an additional 3ha that he tends to collaboratively with Ad Vinum's Sébastien Chatillon) and a tiny cellar on his family's farmhouse property. Here he also produces olive oil, sunflower oil, peach nectar, apple juice, grape juice, strawberries, almonds and einkorn. Thomas has been making natural wine since 2016 using organic grapes he bought on the vine, but 2019 was his first official commercial vintage. With all of his cuvées he practices manual harvesting, indigenous yeasts, no sulphite addition or targeted sulphiting, and uses an old vertical hydraulic press.
L'Atelier Bouilleur
Martial Berthaud, Theresa Bullmann, and Matthieu Collin are the current faces of cooperative distillery L'Atelier Bouilleur. Martial and his fellow spirit experimenter Quentin LeCleac'h founded L'Atelier Bouilleur in 2014 when they took over the local coop making Fine Faugères from local juice. The distillery was built in the early 1900's and has been operational for over 80 years (there was a brief break in production from '86-'99). The distillery uses Charentais stills, some of which have been used since 1927. The spirits use no chemical or animal-based additives and are filtered by gravity. There are 57 foraged botanicals used. The spirits are not labeled organic – the team feels that the standards of the EU do not match their own and choose to not partake in the bureaucratic systems of organic certification.
Martial and Theresa, in collaboration with Alcools Vivant and Distillerie Baptiste, created the Natural Booze Manifesto in 2018.
The Single Apple Company
The Single Apple Company was created in 2016 with the idea of creating a modern vision of Calvados. Established in 2016, the Saint James based distiller has a goal of creating single variety calvados. With over 200 apples within the AOC, the options are seemingly endless. Currently the single varieties are maturing, in the meantime they are making a more traditional spirit with multiple apple varieties, a gin made from apple brandy, and special project eau de vies.
More information here
La Bascule
Importer, bar owner, shop owner, now winemaker and our dear friend, Fifi wears many hats in the industry. A true pioneer of vin nature in New York, France and beyond, Fifi has paved the way for many to learn and grow in an industry he's helped shape himself.
For his first négoce project, Fifi has teamed up with Stephen Moran, proprietor of Domaine Leonine in Roussillon to collaborate on a series of wines that share a similar style to Domaine Leonine but with a touch of flair and intensity that is true to Fifi and his charisma.
Domaine Padié
Originally from Burgundy, Jean-Phillipe Padié headed south to study agronomy in Montpellier. After stints working for Mas Amiel and Gerard Gauby he didn't stray far and established his own winery in Calce in 2003. Since then he has expanded his holdings to 18 ha spread out over 30 micro-plots that he works with a team of two others. Carignan, Grenache in all three colors, Syrah, Mourvedre, and Macabeu are farmed using agrobiology and biodynamic practices.
Domaine Mont de Marie
Thierry Forestier has been farming his land in the small village of Souvignargues since 2004, when he left his 9-5 in Montpellier and put together 5ha of old vines. He made wines typical of the region (intense extractions, lots of oak) for many years until 2017 when he met Eric Pfifferling of Domaine L'Anglore, who was searching for fruit to purchase after an especially low-yielding vintage. Thierry was able to see what his grapes could do with a lighter touch in the winery and never looked back. He is now a resource for young growers looking to make low-intervention wine in the Gard, lending a hand in the vineyard and helping source grapes.
Thierry has expanded his domaine to 12ha of Carignan, Cinsault, Grenache, Viognier, and Aramon. The vineyards are full of boxwood trees and underneath the is a mix of granite, clay, and sandy soils.
Domaine de la Mer Blanche
Childhood friends Tarek Laktaf (the mixologist) and Frédéric Bey (the farmer) came together to create the first Catalan Limoncello. The varieties of citrus trees were planted in 2016 and cohabit one hectare of land in Argelès-Sur-Mer, a region that reaches from the sea to the French-Spanish border. Lemon, orange, pomelo, yuzu, and kumquats are farmed organically with a focus on agroforestry to protect the wind-sensitive trees.
The fruits are harvested from September to December, only fruit from the farm is used to produce the line of cellos. All the zesting is done by hand and the peels are immediately put into vats to macerate, maintaining freshness you would lose in cold storage. The peels are macerated in alcohol for around a month and unrefined cane sugar syrup is added to finish.
Mas Mellet
Emilie and Brice Bolognini started their wine adventure together 20 years ago when they purchased a significant 27 hectares of abandoned vines. Since their first vintage in 2003, they've slowed their production cutting back to 15 ha, converted to biodynamic agriculture, and have planted hundreds of trees around the estate, including mimosa, pomegranate, olive, and fig. All of their work in the vines are done manually with the help of sheep during the winter, and intervention in the cellar is kept low utilizing indigenous yeasts, low inputs, and only minimal sulphites at bottling.
Emilie and Brice's aim was to build new respect for the soil, raw materials, the environment, and biodiversity, resulting in wines that are full of character and freshness, and demonstrate the highest integrity of the Costières de Nîmes and its neighboring Mediterranean Sea.
Les Foulards Rouges
Jean-François Nicq of Les Foulards Rouges spent 12 years working in Côtes du Rhône, before settling in the Rousillion village of Montesquieu-les-Albères in 2001. With a degree in geology and oenology, followed by an introduction to the burgeoning natural wine movement by friends Thierry Puzelat, Marcel Lapierre and company, Jean-François found himself purchasing 9 ha of vines with the aim to produce clean and highly drinkable wines. Just six miles from the Mediterranean Sea and three miles from the Spanish border, Jean-François's (now) 20 ha of vines rest on the French side of the historical Catalogne, with the Pyrénées mountains in close view. 
His vineyards are composed of multiple plots. On the lower, flatter part are mostly decomposed sandier soil producing his lighter, easy-to-drink cuveés. On the hillside, about 100 meters up, are his isolated single plots: Frida, Les Vilains, Les Glaneurs, Grenache, which lie directly on the bedrock with barely any topsoil and show more density. The soils are lightly worked with the help of his sweet mule, Uma, and in the cellar Jean-François keeps things simple and precise. As a result, his wines are a rare expression of this region, always able to retain so much freshness without compromising complexity. 
Tailleurs Cueilleurs
Chloé Bey and Jordan d'Osualdo met at harvest for Bruno Schueller 2018 and established Tailleurs Cuilliers (meaning: pruners pickers) with their first harvest in 2021. They moved to Bugey looking for a cool climate home base and were  able to purchase small plots around the village of Saint-Jean-le Vieux on the north side of Bugey. They are focused on the ideas of non-action and wild agriculture and hope to bring these ideas through to the finished product.  They are working 3 plots, 4ha total: Varey, Poncieux, Dalivoy. They are farming Gamay, Mondeuse, Pinot Noir, and Chardonnay. The farming uses organic and biodynamic practices, agroforestry is a part of their long term plan (planting fruit trees, starting with 21 trees in 2022). No sulfur, unfiltered, all wines are aged in demi-muids, old oak or acacia for 9 months.
Yo Yo
Laurence Manya Krief, known to most as Yoyo, has 5 hectares of old vines in Banyuls-sur-Mer delicately nestled between the mountains and the sea. After a brief career in the textiles industry in Paris, Yoyo began yearning for more connection with her work and wanted to free herself from what she described as an often "materialistic" environment. So she moved to the Banyuls, just miles near her hometown of Perpignan and purchased small plots of abandoned vines overlooking the Mediterranean ocean. By 2008 she converted her vines (primarily comprised of grenache and carignan) to be completely organic, and now maintains the steep slopes entirely by hand, horse, or mule (Uma). Yoyo's aim to encapsulate the warmth of the Mediterranean sun, the salty breeze of the ocean, and the magic of the black schist soil, is perhaps why her wines are known to be some of the most elegant and poised of the beloved Banyuls.
No Control
Natural vigneron and punk rock enthusiast Vincent Marie started No Control in 2013 after turning his love and passion for natural wine into dedicated practice. With roughly 5 hectares located in Auvergne's volvic of Puy-de-Dôme, the terroir is characterized by a diverse range of soils of ancient and recent volcanic origin, giving the wines a deep and unique mineral quality. His intention to produce deeply territorial and expressive wines is reinforced by his love for the environment and ecosystem, as far as being vinified according to a rigorous natural wine ethos and seeing no added SO2 whatsoever. Vincent
More info on No Control can be found here.
Philippe Pibarot
Philippe Pibarot resides and makes wine on the outskirts of the village of Mus, a couple of miles south of Nîmes in the northern part of Languedoc. Philippe's first vintage was in 2001, and today he cultivates nine hectares of vineyard with the help of his father. Philippe became a guru for young winemakers starting to convert to organic and biodynamic viticulture. The wines are made to be natural and accessible: delicious juice. He harvests only the most perfect bunches to make his flawless and outstanding cuvées.
Obora
Angela Quiblier and Hugo Foizel met while studying oenology at Dijon. After working together at Domaine des Jeunes Pousses, they came together to create the winery Obora, based in Chenas, Beaujolais,
Hugo was born in Aube, Champagne, in the heart of the Côte des Bar. He passed the Advanced Vocational Diploma (BTS) in viticulture oenology through an apprenticeship in Champagne, then continued his studies to obtain the oenology diploma. He has had multiple professional experiences, including at Domaine de Terrebrune in Bandol, then at Domaine de la Romanée Conti and at Domaine Comte Georges de Vogüé in Burgundy.
Angela started her studies in Canada in Food Science and came back to France to learn oenology. Originally from Jura, she discovered the wine world thanks to Stephane Tissot. Her professional experiences with Mrs Lalou Bize Leroy at Domaine Leroy, then at the Hospices de Beaune with Ludivine Griveau, and finally with Thibault Liger-Belair, have allowed her to understand the link between a wine grower and their vines, and its wines.
The name Obora comes from a combination of their birthplaces and where they make wine — Aube, Beaujolais and Jura.
Axel Domont
Axel Domont came to Savoie as a member of the French national cycling team, which he was a part of from 2013-2020. After a terrible cycling accident ended his career he found himself turning to a new passion: winemaking. His second career started with a first vintage in 2021. Most of Axel's production is from rented vines at the foot of Mt. Granier. He purchases fruit from neighbors as well. Production space and supplies are borrowed from his friend Nicolas Ferrand at Domaine de Côte Rousses. The rented vines are all organically farmed and the purchased fruit is from either organic or biodynamic vineyards.
Henri Chauvet
Henri moved to Auvergne in 2021 to begin his new dream of making natural wine after a career in banking and insurance. He studied under Jerome Bressy of Gourt de Mautens and Thierry Allemand before starting his own label. His goal is to make non-dogmatic natural wine that expresses the varied terroir of Auvergne. By taking over the estate of Annie Sauvat in Boudes Henri has been able to hit the ground running with an already active winery. The domaine is 10.5 hectares in Boudes planted with Gamay (60%), Pinot Noir (30%), and Chardonnay (10%). This area once counted hundreds of hectares and these days is down to around forty hectares of vines. The steep slopes contain a wide variety of soils: volcanic lava flows and ash, a rainbow of marls, and limestone outcroppings. The oldest vines on the property were planted in 1987. The property is currently undergoing organic conversion. Lulu the horse helps with soil management. Mechanical work is difficult given the gradient of the hillsides. All wines are fermented with indigenous yeasts, unfined, and unfiltered. Each plot and each variety is vinified separately and all wines are whole bunch. Sulfur use varies wine to wine, depending on what Henri feels is necessary.
Domaine de la Chevalerie
Domaine de la Chevalerie has been in the Caslot family since the 17th century and have been specialists in Cabernet Franc for 13 generations. Their land covers 13 hectares in Bourgueil and were one of the early domaines in the region to shift their production to biodynamics. Through their careful farming, they offer a lens into the terroir of this classical region by vinifying and bottling each lieu-dit of separately. The winery sits atop a tuffeau cave that spans over a hectare underground, and for generations they've made the effort to age bottles of each lieu-dit, sometimes for up to 100 years. It's a massive study viticulture and elevage through one grape variety and the subtle variances of a single slope.
Domaine Nénu
Rasmus Aamand Olesen, a biology student from Denmark, took a year off from school to be an intern at Domaine du Traginer in Banyuls and never left. Rasmus grew up on a farm in his home country and married that experience with winemaking during his internship in 2016. 
Rasmus started planting vines in 2017 and is also rehabbing conventionally farmed plots and taking over abandoned vineyards. The wines are within AOP Collioures, a region co-extensive with Banyuls. Steep vineyards shoot up from the sea and local schist stone is used for the feixas (terraces). His cellar is a tiny garage in Port-Vendres, a quaint fishing village. 
Here is a snippet from Rasmus himself on why he decided to make a brandy:
"The idea of making brandy actually mostly came from a friend of mine. Being human means you do errors (like e.g. oxidising a white during bottling) and choosing to make wine with as little sulfite as possible means you are walking on a knifes edge when your standards as a winemaker at the same time drives you towards making ageable wines you can be proud of. Simultaneously I'm very much against squandering the resources of your planet. Even though I do my best to allow for as much life as possible to flourish in my vineyards I am still painfully aware that my actions are claiming a part of this planet which for a while will not be free to develop as its sees fit. Thus throwing good quality grapes away, because I'm trying to discover the boundaries of what me vineyards will ferment cleanly, feels utterly meaningless. So the brandy bridges that gap. For the most part."
Karnage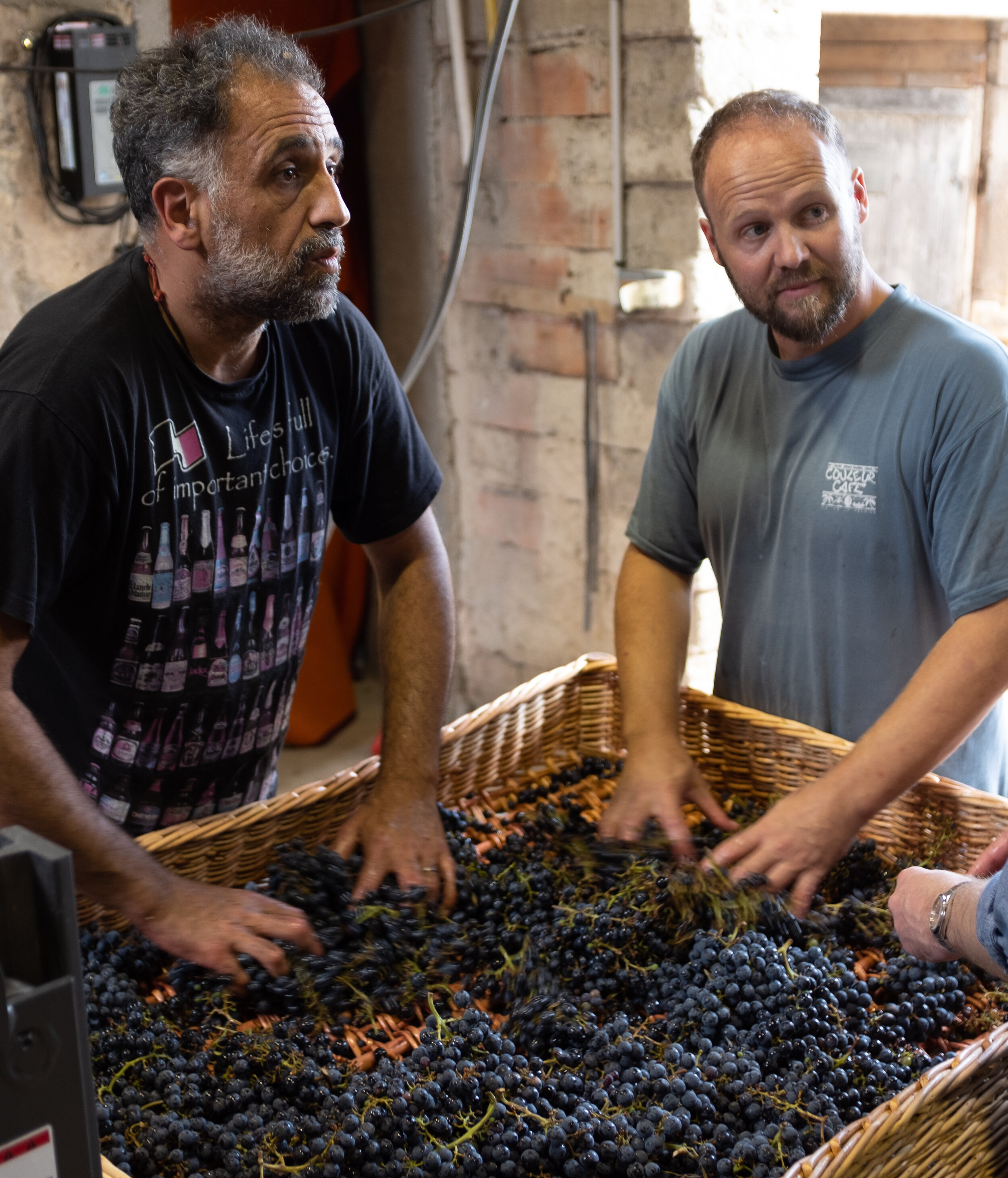 Charles Dagand (formerly of Domaine L'Octavin) and Stéphane Planche (owner of wine store Les Jardins de St. Vincent in Arbois) came together to form this new negociant project based in the Jura. After some devastating harvests while working on his own project, Carlito, Charles wanted a project that would be less dependent on nature's whims. This is Stéphane's first time making his own wine. This is their second vintage. The grapes are sourced from vineyards around France, in particular in the Languedoc and vinified in Charles' cellar just north of Arbois. They have a few hectares in Jura. 
Certified organic. Winemaking a la Jean Marc Brignot, lots of semi-carbonic maceration.
Marthe Henry Boillot
@marthehenrymeursault
 After working as a journalist in Paris, Marthe Henry Boillot returned to her family in Meursault to start her label in 2013. She made her first vintage in 2017, around 12 barrels. Marthe worked at Domaine Jean-Noël Gagnard during her work-study program and currently is part of the team at Domaine Rougeot. 
Marthe's grandfather Pierre Boillot left behind a 2.5ha estate when he died in 2004. She is currently making her wines there and will have access to the estate fruit starting in 2023. In the meantime she buys from neighboring winemakers and friends who share the same approach to viticulture; some of the grapes are organic. The wines are in barrel up to 18 months. Reds are whole-cluster. Small sulphur additions at bottling only.
A wonderful interview with Marthe here from 2020.
La Theriaque Spiritueux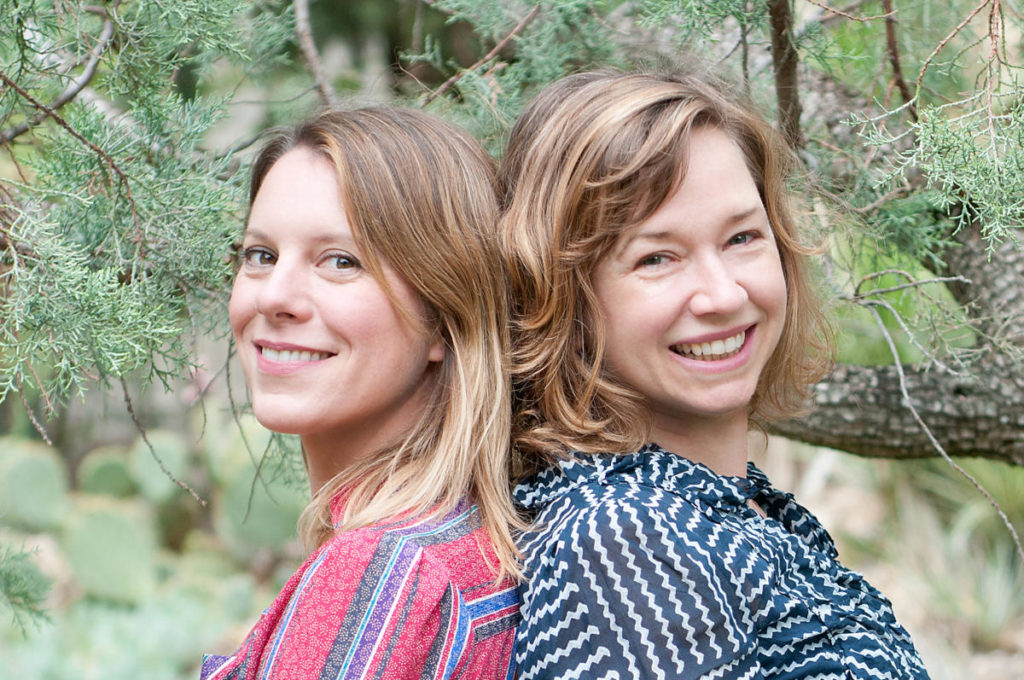 Lana Labermeier & Sunshine Erickson
Lana and Sunshine, both from the US, met in France while working as export managers for French wine companies. They made a home for themselves in the south, near Montpellier, where they created La Theriaque Spiritueux in 2020.
The gins and vermouths are made in a style reminiscent of the 18th and 19th centuries: a base of local wine, a mix of organically farmed and foraged wild herbs and aromatics, and a 300l Charentais pot still. Their methods require intuitive choices that result in terroir driven spirits.
Process and technical information here
Mas d`Intras
Mas D'intras are independant vinegrowers located in the town of Valvignères in the southern French department of Ardèche. They have been exploiting the lands of their family in the hamlet of Intras since 1982.
They are a small family business of only 7 people and they produce organic certified wines. Everything from work in the vines to bottling is made by themselves at the domaine. Their decision to go organic came from a wish to adopt a responsible attitude.