Karnage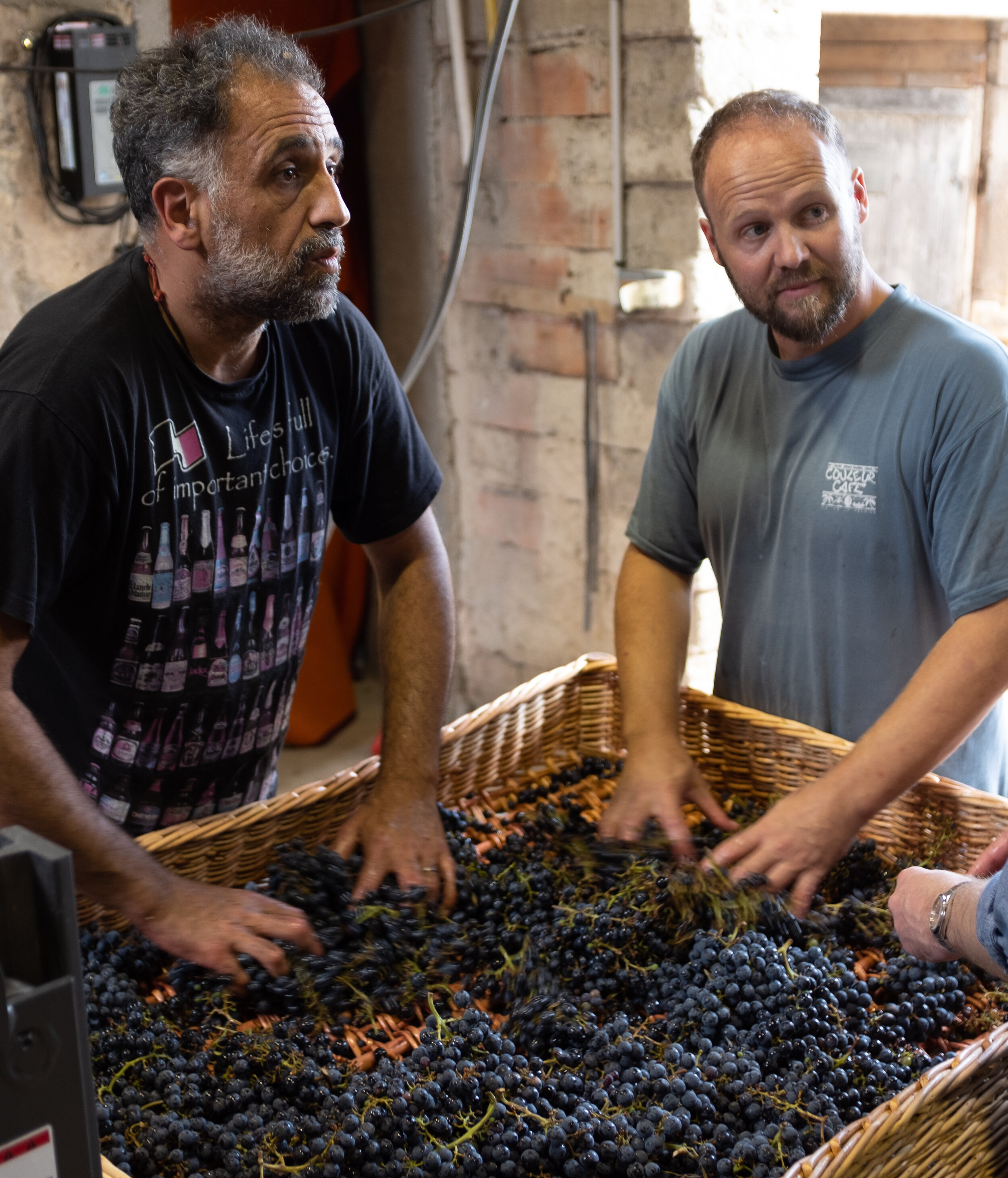 Charles Dagand (formerly of Domaine L'Octavin) and Stéphane Planche (owner of wine store Les Jardins de St. Vincent in Arbois) came together to form this new negociant project based in the Jura. After some devastating harvests while working on his own project, Carlito, Charles wanted a project that would be less dependent on nature's whims. This is Stéphane's first time making his own wine. This is their second vintage. The grapes are sourced from vineyards around France, in particular in the Languedoc and vinified in Charles' cellar just north of Arbois. They have a few hectares in Jura. 
Certified organic. Winemaking a la Jean Marc Brignot, lots of semi-carbonic maceration.
CUVÉES
Wouj2
Region: Jura
Grape: Pinot Noir
Soil:
Average Age of Vines:
Farming: organic
Harvest: by hand
Winemaking: 9 month maceration in whole bunches.
Aging:
Fining: none
Filtration: none
Added S02: none
Kassette B
Region: Languedoc
Grape: Alicante Bouschet, Merlot
Soil:
Average Age of Vines:
Farming: organic
Harvest: by hand
Winemaking: The Alicante is worked in whole bunches for the 2 vats. The first is completed with half of the directly pressed Merlot, the second is completed with the rest of the destemmed Merlot. 3 weeks of maceration for the first and 15 days for the second.
Fining: none
Filtration: none
Added S02: none
Kube Rosé
Region: Languedoc
Grape: Grenache Gris, Grenache Noir, Grenache Blanc
Soil:
Average Age of Vines:
Farming: organic
Harvest: by hand
Winemaking: Grenache Gris is macerated for 20 days in whole bunches, grenache noir is directly pressed. Both vinified separately, and macerated for 10 days in full fermentation.
Fining: none
Filtration: none
Added S02: none
Kolombour
Region: Hérault
Grape: Colombard, Bourboulenc
Soil:
Average Age of Vines:
Farming: organic
Harvest: by hand
Winemaking: Direct pressing without destemming of Bourboulenc. Colombard 50% destemmed and 50% whole bunches. The de-stemmed harvest in half of the juice from the Bourboulenc direct press, the de-stemmed harvest in the 2nd half of the juice from the Bourboulenc direct press. 
Fining: none
Filtration: none
Added S02: none
Zak
Region: Languedoc-Roussillon
Grape: Mauzac
Soil:
Average Age of Vines:
Farming: organic
Harvest: by hand
Winemaking: Harvested on September 13, 2020, direct pressing without destemming. Slow and constant fermentation in vats throughout the winter, the malolactic fermentation taking place at the same time. Bottled on Thursday July 1, 2021 without any racking.
Aging: 9 months stainless steel tanks
Fining: none
Filtration: none
Added S02: none
Guy Rouk
Region: Alsace
Grape: Auxerrois
Soil: 
Average Age of Vines:
Farming: organic
Harvest: by hand
Winemaking: Direct press. Fermented with indigenous yeasts. Bottled on March 15, 2021 and disgorged during the month of September 2021.
Aging: Stainless Steel
Fining: none
Filtration: none
Added S02: none
Greska
Region: Hérault, Roussillon
Grape: Grenache Blanc, Muscat from Alexandria
Soil:
Average Age of Vines:
Farming: organic
Harvest: by hand
Winemaking: Grenache Blanc and Muscat from Alexandria were vinified separately. Both macerated for 10 days with half directly pressed and half in whole bunches.
Aging:
Fining: none
Filtration: none
Added S02: none